05258 - CPDWW - Cordless Power Drive for Waterworks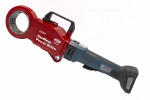 05258 - CPDWW - Cordless Power Drive for Waterworks
Specifications
Description
Cordless Power Drive for Waterworks Use - bare tool only, no battery
-
Requires 18V Bosch® battery. For best results, use REED CPDWW with a minimum 4.0 Ah 18V Bosch® battery. For heavy users, consider an 8.0 Ah battery. As with all cordless power tools, a spare battery is always helpful.
Features
With a change of the drophead, power drive adapts for tapping/drilling or valve turning.
Safety first! Motor kick-off feature if unit experiences sudden jolt or torque burst.
Provides plentiful torque without all the weight – just 15 lbs (6.8 kg).
Battery power which means no pneumatic or electric drop lines.
Power switch has locking position, but stops almost immediately when released.
Convenient carrying handle offers support for valve turning.
Power source is Bosch® angle grinder. User to provide 18V Bosch® battery, sold separately.