04290 - PES1IPS/CTS - Инструменты для перекрытия полиэтиленовых труб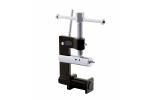 04290 - PES1IPS/CTS - Инструменты для перекрытия полиэтиленовых труб
Номер в каталоге:
PES1IPS/CTS
Характеристики
Пропускная способность
Фактический внешний диаметр
.63" - 1.32"
[1]
Смотрите спецификации ограничителей инструмента для перекрытия гибких трубопроводов обжатием, размера медной трубкы и размера железной трубы, или метрических ограничителей в соответствующих ссылках.
Свойства
Four-sided stop #94279 fits 3 sizes each of IPS and CTS pipe/tubing.
Positive stops prevent damage caused by over-clamping.
PES1 "C" shape allows easy movement on and off pipe.
PES1 tool crimp bar is drilled and tapped for grounding screw.
PES1 steel construction helps its compact size pack maximum strength.