02833 - VW3 - Valve Wheel Wrenches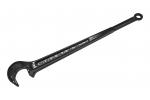 02833 - VW3 - Valve Wheel Wrenches
Features
Protect valve wheels from damage and burrs by choosing an appropriate hook.
Forged steel construction for strength and longevity.
Designed to apply torque needed for valve-turning, over long periods of time.
Powder epoxy paint durable and helps to resist corrosion.
Reed designs are safer for heavy use—bending gives warning of overload.