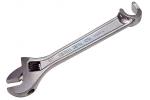 Valve Packing Wrenches
Features
Adjustable wrench end for hex or packing nuts with the other end for O-style valve wheels.
Combines two tools needed for regular maintenance and valve operation.


Specifications
Catalog No.
Item Code
Wrench Capacity
Length
Weight
in-nom.
mm
in
mm
lbs
kg
A8VO
02808
15/16
23.8
8.4
213
0.6
0.3
A10VO
02810
1 1/8
28.5
11
267
0.9
0.4
A12VO
02812
1 7/16
36.5
12.4
315
1.5
0.7
More Information
Valve Packing Wrenches are combination tools that help maintain valves without stripping the nuts or gouging the wheel rims. One end is an adjustable wrench while the other end provides leverage to turn valve wheels with up to 5/8" thick rims. They fit O style valve wheels. The adjustable wrench end is great for hex nuts including packing nuts on valve stems. Valve packing wrenches are lightweight for easy portability.

Documents