Thru-Bolt™ 2-in-1 Dual Socket, Adjustable Ratchet Wrench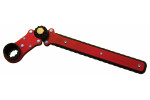 Thru-Bolt™ 2-in-1 Dual Socket, Adjustable Ratchet Wrench
Features
Reversible, adjustable head with easy-to-use wing nut for positioning.
Two socket sizes back-to-back give double use to the wrench.
Head pivots and locks in 30 degree intervals.
Adjustable head allows easy access to MJ bolts on the bottom of the pipe.
Specifications
Catalog No.
Item Code
Sockets
Application
Handle Length
Weight
in
mm
lbs
kg
L2N1ADJ
02695
1 1/4" & 1 1/16"
Mechanical joints and restraints, repair clamps, service saddles
17
432
2.3
1.1
More Information
With its reversible, adjustable head, REED's L2N1ADJ lets workers access nuts in tight quarters. The two socket sizes (1-1/4" x 1-1/16") feature a 12-point design which helps the sockets grip and hold for pipeline and construction work.

A unique feature of the wrench head is its ability to adjust position. Loosen the large wing nut to swing the socket head from side to side. Flipping the socket head, by disassembling the wing nut and bolt, makes it possible to use either socket opening without interference.

The 36-teeth pattern means there are 10 degrees between teeth which is beneficial for work in tight spaces and limited handle swing. The stamped steel handle is 17" long and has an ergonomic design. The wrench weighs just 2.3 lbs/ 1.1 kg making it comfortable to carry and use.

Extra attention to construction is found in the strong, cast steel sockets which are built for accuracy. The design of the ratchet engagement yields smooth operation and quick reversal movements. A robust, double pawl secures the tool in forward or reverse. Torque rating is 200 foot pounds. The L2N1ADJ is made in the USA.
Documents