02390 - HWS45 - Hydrant Wrenches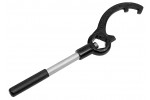 02390 - HWS45 - Hydrant Wrenches
Features
2-in-1 hydrant wrench offers a spanner for the Storz® fitting and an integrated, adjustable pentagon socket for turning operating nuts.
Fits Storz fittings on fire hydrants.
Both pentagon and square operating nuts fit the adjustable, pentagon socket.
Durable wrench construction comprised of ductile iron head and steel handle.
Handles up to 5" coupling size for lug style hose.