02386 - MW1 1/4GRIP - Comfort Grip - One Hand Wrench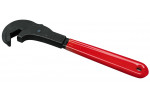 02386 - MW1 1/4GRIP - Comfort Grip - One Hand Wrench
Features
Special hand grip provides ergonomic advantages of higher torque and less hand fatigue.
Saves time loosening nut due to ratchet action jaws; unlike a pipe wrench which cannot ratchet on a fitting.
Works like a pipe wrench and provides better grip than pliers due to the jaws and tooth direction.
This REED wrench invention features strong, forged steel, one-piece handle.