05276 - 700PDTMPDA - Power Units for Tapping/Drilling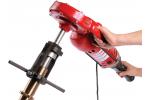 05276 - 700PDTMPDA - Power Units for Tapping/Drilling
Specifications
Description
700PD and TMPDA adapter
Features
Add power to your drilling and tapping, and save hours of hand-cranking.
Includes power drive and adapter.
Adapter with square end fits 13/16" boring bar that is common on popular drilling and tapping machines.
Pairs with REED DM1100, DM2100, TM1100, CDTM1100 and CDTM2100 machines including all variations.
Electric powered, 120V, 60 Hz.
1/2 Hp, 28 RPM.