05266 - 700APDTMPDA - Power Units for Tapping/Drilling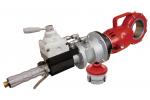 05266 - 700APDTMPDA - Power Units for Tapping/Drilling
Specifications
Description
700APD (pneumatic) and TMPDA adapter
Features
Add power to your drilling and tapping, and save hours of hand-cranking.
Includes power drive and 13/16" adapter.
Pneumatic powered.
The 700APDTMPDA power tapping/drilling machine is a heavy-duty workhorse designed for constant, everyday use and consists of the 700APD Power Drive with pneumatic power and the TMPDA adapter. The TMPDA fits the 13/16" boring bar that is common on popular drilling and tapping machines. The operator manually turns the star feed on the tapping or drilling machine while the 700APD power drive adapter turns the boring bar.