02311 - R40+ - Tripod Pipe Vises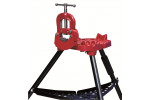 02311 - R40+ - Tripod Pipe Vises
Features
Reversible jaws provide an extra set of jaws.
R40+ features a 2 1/2" capacity yoke vise.
Yoke pipe vises offer the strongest hold.
Very sturdy due in part to the overlapping hinges on the lower tray and the adjustable tray clamp.
Handle grip is positioned for best portage of the folded tripod.
Sides on folding tray keep tools and parts safe from falling or rolling off.
Documents