96371 - V-HEAD - Pipe Jacks - Alternate Heads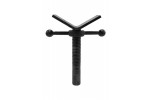 96371 - V-HEAD - Pipe Jacks - Alternate Heads
Features
The 1,000 lb (454 kg) capacity ball transfer attachment (JTA) with replaceable ball casters bolts to either side of v-head models.
V-HEAD and ROLLER HEAD options are interchangeable on any of the pipe jacks REED offers.
Ball transfer head JTA attaches to RIDGID® and Sumner® models while all REED heads and bases interchange with Sumner® and Greenlee®.