01389 - 706 - Mid-Line Vises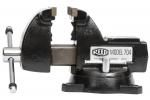 01389 - 706 - Mid-Line Vises
Specifications
Pipe Capacity in-nom.
1/4 - 3 1/2
Features
Heavy-duty, cast iron main body parts.
Throat depth designed for use with pipe.
Hardened, reversible, replaceable steel jaws with machined serrations.
Enclosed, lubricated spindle design.
Straight-line pull, unbreakable nut.
360 degree, slip-proof swivel base with double lockdowns.
Built for a lifetime of service.
Documents