06027 - FPV20 - Field Pipe Vise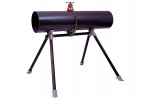 06027 - FPV20 - Field Pipe Vise
-
Legs and backbone for this vise are available, but must be ordered separately (#96014) and weigh 50 lbs (22.7 kg). To create legs, use 1 1/2" Sch. 40 steel pipe.
Portable and designed for heavy duty, pre-trench or field work.
Vise works by tightening the chain of the smooth jaws, clamping the pipe to the stand.
Perfect for supporting work during cutting operations using Hinged Cutters, Rotary Pipe Cutters, and the Universal Pipe Cutter.
Documents