06027 - FPV20 - Field Pipe Vise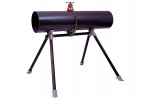 06027 - FPV20 - Field Pipe Vise
-
Legs and backbone for this vise are available, but must be ordered separately (#96014) and weigh 50 lbs (22.7 kg). To create legs, use 1 1/2" Sch. 40 steel pipe.
Features
Designed for heavy duty, pre-trench or field work.
Perfect for supporting work during cutting operations using Reed Hinged Cutters, Rotary™ cutters, and the Universal Pipe Cutter.
Documents