08171 - EHTP500E - Electric Hydrostatic Test Pumps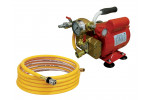 08171 - EHTP500E - Electric Hydrostatic Test Pumps
Specifications
Power Source
220V, single phase 50/60 Hz
-
Export model includes fitting #98178 to convert inlet from ¾" garden hose thread (GHT) to ½" BSPT. This model, designed for use with BSPT threads, ships to locations in Europe, Asia, Australia and Africa. 
Smooth running, quiet 3/4 horsepower motor.
Pump includes inlet adapter from 3/4" GHT (garden hose thread) to 1/2" BSPT for easy connection to BSPT fittings.
Electric pump includes a 15 foot (46 m) high pressure hose for filling the system.
Pumps are self-priming and work with pressurized or non-pressurized water supply.
Test water meters, plumbing lines, pressure vessels, solar systems and sprinkler systems.
Output pressure adjusts easily.
Documents