08179 - DPHTP500E - Drill Powered Hydrostatic Test Pump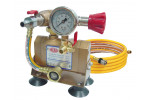 08179 - DPHTP500E - Drill Powered Hydrostatic Test Pump
Specifications
Power Source
Drill powered (drill not included)
-
Export model includes fitting #98178 to convert inlet from ¾" garden hose thread (GHT) to ½" BSPT. This model, designed for use with BSPT threads, ships to locations in Europe, Asia, Australia and Africa. 
Features
Pump includes inlet adapter from ¾" GHT (garden hose thread) to ½" BSPT for easy connection to BSPT fittings.
Lightweight since the power source is separate.
Compatible with any 1/2" electric or 18V cordless drill.
Pumps are self-priming and work with pressurized or non-pressurized water supply.
Keeps the worksite clear as no drop cord is needed when used with a cordless drill.
Works on commercial and residential water systems.
Storage case keeps the pump clean and organized.