True Peel® PE Prep Tools - Metric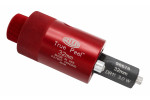 True Peel® PE Prep Tools - Metric
Features
Prepares the ends of PE pipe and tapping tees for electrofusion.
Removes 0.23mm - 0.30 mm peel thickness.
Spring actuated blade gives a complete peel, even on out-of-round pipe.
Observation window permits view of the peel in progress.
External cutting blade allows for clear observation of the peel removal.
Hardened tool steel cutting blade with two cutting edges for twice the life.
Close fitting mandrel to round pipe that may be oval.
Tool ships with a protective carrying case.