04182 - RS7290 - Ratchet Shears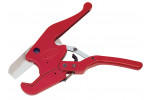 04182 - RS7290 - Ratchet Shears
Specifications
Capacity
actual O.D. in
2" nom. IPS
(2.4" actual O.D.)
For PE, PP, PEX, ABS
plus PVC irrigation lines
[1]
Ratchet Shears are NOT RECOMMENDED to cut PVC or CPVC for high pressure lines or high efficiency vent lines. Instead use REED Quick Release Tubing Cutters.
Features
Ratchet shears with hardened steel blades are ideal for cutting PE, PP, PEX and ABS pipe.
RS7290 cuts tough plastics well because of blade thinness and finish.
RS7290 one-hand style, ratchet shears cut pipe used in gas, water, plumbing, and industrial applications.
All ratchet shears blades can be easily sharpened or replaced, enhancing performance and saving money.