04177 - RS2 - Ratchet Shears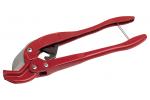 04177 - RS2 - Ratchet Shears
Specifications
Capacity
actual O.D. in
2" nom. IPS
(2.4" actual O.D.)
[1]
Ratchet Shears are NOT RECOMMENDED to cut PVC or CPVC for solvent cement weld connections because hairline fractures may occur when cutting PVC or CPVC. Instead use Reed Quick Release™ Tubing Cutters.
Features
Ratchet Shears are ideal for cutting PE, PP, PEX, and ABS pipe and tubing.
Two-hand shears have smooth ratchet action for easy cuts.
RS2 is a well-made, workhorse model.
Replace or resharpen blades for longer tool life and faster cuts.