Ratchet Shears Replacement Blades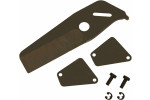 Ratchet Shears Replacement Blades
Features
Sharp blades yield longer tool life and faster cuts.
Blade can be sharpened before replacement.
Specifications
Catalog No.
Item Code
Description
RS1B
94175
RS1 Blade, RS1C Blade
RS2B
94176
RS2 Blade, RS2C Blade
RS1BPLT
94180
RS1PLT Plated Blade
RSP1B
94276
RSP1 Blade
RS7290B
94555
Blade fits REED RS7290 and Wheeler-Rex® 7290
RSP2B
94277
RSP2 Blade
More Information
For best performance, regular blade maintenance is important. To replace chipped or worn blades, use Reed's high quality blade for the shears.