04170 - TC8QP - Quick Release™ Tubing Cutters for Plastic Pipe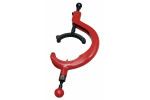 04170 - TC8QP - Quick Release™ Tubing Cutters for Plastic Pipe
Specifications
Cutter Wheel
Parting Blade installed;
80P wheel in box, not installed
Application
Parting Blade: ABS, HDPE/PE, PP, PVC Sch. 40
80P Wheel: ABS, HDPE, PE .75 Thick (19 mm)
-
TC8QP comes with a cradle and parting blade for cutting thick PVC. The parting blade can cut to a depth of 1.5 inches on any plastic pipe material (PE, PVC, ABS, etc.).
-
Purchase and install 680PVC cutter wheel to cut standard and heavy wall PVC/CPVC.
Quick Release™ is a REED invention and still the industry standard for tubing cutters.
Features include quick release, quick advance, and manual advance, along with the ball detent wheel pin.
Quick release trigger on sliding bar zips open for quick cutter removal.
With a simple wheel change, Quick Release™ cutters can be used for a variety of plastic pipe including PVC, CPVC, PE, PP and ABS.
Cutter design yields best tracking and smooth operation.
TC8QP includes a cradle and parting blade for cutting 1-1/2 inch (38 mm) thick plastic pipe.
Documents