04110 - TC1QP - Quick Release™ Tubing Cutters for Plastic Pipe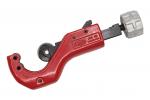 04110 - TC1QP - Quick Release™ Tubing Cutters for Plastic Pipe
Specifications
Capacity O.D.
actual O.D. in
1/8 - 1 5/16
Application
ABS, PE, PEX, PP, HDPE
-
Features spare cutter wheel in knob. TC1Q and TC1.6Q models have spare "O" wheel. TC2QP has "OP2" wheel. TC2QPVC has "O" wheel.
Features
With a simple wheel change, Quick Release™ cutters can be used for a variety of plastic pipe including PVC, CPVC, PE, PP and ABS.
Best tracking, easiest cutting tubing cutters available.
Replace worn cutter wheels for longer tool life and faster cuts.
Quick release knob on sliding bar allows fast tool placement or removal on pipe to be cut.
Documents