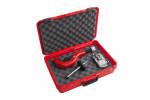 Plastic Pipe Joint Kits
Features
All the tools needed for a perfect joint, every time.
Cutter, deburring tool and internal cutter together in a carrying case.
These tools work on plastic pipe such as PVC, CPVC, ABS and 636.
Quick Release™ Tubing Cutter produces a square cut so the pipe bottoms out in the fitting for best fit.