04446 - PPJ - Plastic Pipe Joiners for Solvent Cement Connections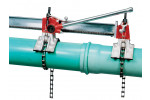 04446 - PPJ - Plastic Pipe Joiners for Solvent Cement Connections
Specifications
Application
Solvent Cement Connection
Controlled feed by user prevents over-insertion.
Efficiently connect 4" – 12" (114 - 324 mm) PVC solvent cement joints using the PPJ and individually sized saddles.
PPJFA Fitting Attachment is required for solvent cement branch connections.
NOTE: Connection saddles for solvent cement connections (Plastic Pipe Joiners – Saddles) must be purchased separately.
Documents