PLAS In-Line Rotary Pipe Cutters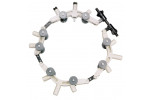 PLAS In-Line Rotary Pipe Cutters
Features
Safe to use as it creates no dust and chips fall where they are cut. There is no danger of chips being blown well into pipe.
Only 6"-8" clearance needed to turn PLAS tool around pipe.
Cuts out-of-round pipe because of spring loaded nuts.
With PVC models, simultaneously cut and bevel PVC using cut-off blade and bevel blade.
Inexpensive tool for contractors to make a cut for a tie-in or pipe break and then get the line back in use. Reduce overall labor costs!