04469 - PLASOH12 - PLAS Hand-over-Hand Rotary Pipe Cutters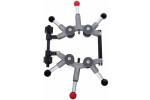 04469 - PLASOH12 - PLAS Hand-over-Hand Rotary Pipe Cutters
Specifications
Sections Used
E (2), B (1)
Application
PVC Sch. 40, PVC C900 & C905
Features
Excellent for cutting pipe in-trench or above ground.
Attached handles permit fast hand-turning – about half the cutting time of a regular PLAS cutter.
Leaves a disposable remnant (not dust or chips) that is easy to recycle.
Simultaneously cut and bevel PVC using cut-off blade and bevel blade.
Simple to transport and fast to use.
Documents