04671 - CPBMADP29 - Bevel Boss® Pipe Beveler Adapter Heads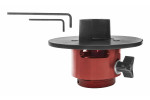 04671 - CPBMADP29 - Bevel Boss® Pipe Beveler Adapter Heads
Specifications
Description
Adapter Head only, Fits Milwaukee® Die Grinder Models 2939-20 and 2984-20
Features
Adapt operator's own Milwaukee® 2939-20 or 2984-20 die grinder to serve as a plastic pipe beveler for exterior bevels.
Operator safety is important and the REED system provides a secure way to cut a consistent bevel quickly.
Adjust the bevel length on pipe by choosing the right Router Bit.
Only tool in the industry that provides a quick, easy and safe way to bevel plastic pipe.
Ideal for small to large diameter plastic pipe, including stationary pipe already in the ditch.
Power Source Specifications:
Milwaukee® models 2939-20 and 2984-20 M18 FUEL™ cordless die grinders.
Documents