04645 - CPBEOIDKIT - Bevel Boss™ Pipe Beveler Adapter Heads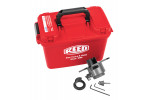 04645 - CPBEOIDKIT - Bevel Boss™ Pipe Beveler Adapter Heads
Specifications
Description
Kit with CPB Beveler Attachment, Router Bit & Internal Shroud (Bosch® Die Grinder & Battery not included) - EXPORT ONLY
Features
Portable pipe beveler uses cordless power source to deburr and bevel plastic pipe quickly.
Adjustable beveler creates external bevel on 2" and larger diameter plastic pipe.
The included beveler shroud CPBIDS rapidly bevels 2" and larger internal diameters.
Long-lasting carbide router bit with four flutes and high RPMs for fast, smooth cuts.
Ideal for large diameter plastic pipe.
Bosch® die grinder, battery and charger not included. Requires Bosch® DGSH181B die grinder.