04306 - PES4 - PE Squeeze Tools - Manual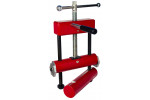 04306 - PES4 - PE Squeeze Tools - Manual
[1]
See PE Squeeze-Off Tool Stops, CTS & IPS or Metric Stops in "Accessories" for specifications.
Aluminum castings withstand different climate and soil conditions.
Increased leverage for squeezing due to sliding bar handle.
Aluminum parts reduce tool weight for easier handling.
Positive stops prevent damage caused by over-clamping.
Easy to use in-line because of attached swing bar and no loose parts.