04324 - PES2-2CTS - PE Squeeze Tools - Manual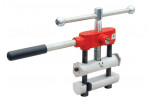 04324 - PES2-2CTS - PE Squeeze Tools - Manual
[1]
See PE Squeeze-Off Tool Stops, CTS & IPS or Metric Stops in "Accessories" for specifications.
Features
Heavy-duty construction for use on CTS pipe.
Double-bar design offers two squeeze points for extra security.
Change the stops to use tool on other pipe types.
Two-position handle for work location options.
Fine thread for smooth squeeze from the operator.
Grease fittings at friction points.
Uses a pair of rotating stops to prevent damage to the pipe.
Swing out arm to easily get tool around the pipe.
Grounding Accessory options.