04290 - PES1IPS/CTS - PE Squeeze Tools - Manual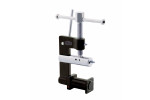 04290 - PES1IPS/CTS - PE Squeeze Tools - Manual
[1]
See PE Squeeze-Off Tool Stops, CTS & IPS or Metric Stops in "Accessories" for specifications.
Features
Four-sided stop #94279 fits 3 sizes each of IPS and CTS pipe/tubing.
Positive stops prevent damage caused by over-clamping.
PES1's "C" shape allows easy movement on and off pipe.
Top bar is drilled and tapped for grounding screw.
Steel construction helps its compact size pack maximum strength.
Attached, slim handle provided for tool stability during use.