98381 - PES4CCST - PE Squeeze-Off Tools - CTS & IPS Stops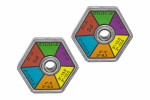 98381 - PES4CCST - PE Squeeze-Off Tools - CTS & IPS Stops
Specifications
Pipe/SDR (IPS)
Wall Thickness (CTS)
SDR 9
SDR 9.3
SDR 11
SDR11/11.5
SDR13.5
Pipe Diameter
4"
2", 3"
2"
3", 4"
3", 4"
Features
Color-coded stops allow operator visual confirmation of the settings on both sides of the tool.
Use easy-to-adjust stops to convert PE squeeze tools from one set of stops to another.
Positive stops are key to proper user of squeeze-off tools
Be sure to verify models that the stops fit, in addition to checking for pipe type and size.