04502 - IC1RA - Internal Pipe Cutter Replacement Blades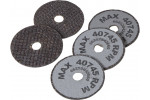 04502 - IC1RA - Internal Pipe Cutter Replacement Blades
Specifications
PVC/CPVC, ABS, PEX, PE and PP
[1]
See "Internal Pipe Cutter Application Charts" for full list of cutting capabilities.
Features
Set of 5 replacement abrasive blades for Reed IC1A.
Abrasive blade cuts ABS, CPVC, PEX, PVC Sch. 40 & 80, PVC Thin Wall.
Blades are made from aluminum oxide with fiberglass mesh.
Abrasive blades are used for areas where the blade may come in contact with concrete or other hard surfaces which would destroy a saw tooth blade.