04507 - IC3/4SL - Internal Pipe Cutters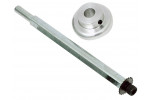 04507 - IC3/4SL - Internal Pipe Cutters
Specifications
PVC/CPVC, PEX, PE and PP
[2]
[1]
To cut 1" PVC/CPVC, add 1C7/8RS blade #04509.
[2]
See "Internal Pipe Cutter Application Charts" for full list of cutting capabilities.
Features
Conveniently cut from the inside using a standard 3/8" drill. (Drill not included.)
Used to cut off pipes below floor level or in the ceiling in new construction, around pools, and for replacement of closet flanges.
Exclusive, adjustable guide on IC1SL and IC3/4SL doubles as a depth gauge.
Heat-treated steel, saw-toothed blades make for fast cutting.
Documents