04609 - HPC8+ - Guillotine Pipe Cutters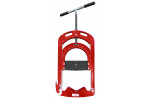 04609 - HPC8+ - Guillotine Pipe Cutters
Features
Manual, guillotine style cutter slices smoothly through PE.
All aluminum construction results in greater rigidity and lighter tool with 22%+ weight reduction versus prior HPC8 model.
Greater pipe capacity, up to 9.06" O.D. (230 mm) fits true 8" DIPS and IPS for PE.
Aluminum rails and crosshead have a hard anodized finish to reduce wear on sliding surfaces.
Superior cuts with USA made blade.