04605 - HPC4+ - Guillotine Pipe Cutters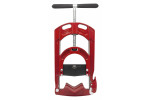 04605 - HPC4+ - Guillotine Pipe Cutters
Specifications
Capacity
in-nom.
1 1/2 - 4 DIPS & IPS
Features
Manual, guillotine style cutter slices smoothly and safely through PE.
All aluminum construction means greater rigidity and a lighter tool with 30%+ weight reduction versus prior HPC4 model.
Hinged latch opens to fit around pipe in the ditch.
Greater capacity fits from 1 1/2 inch IPS through 4 inch DIPS.
Aluminum rails and crosshead have a hard anodized finish to reduce wear on sliding surfaces.
Cuts clean with no chips to clog valves and apertures.
Superior cuts from its USA made blade.