04663 - PB3 - Chamfer Tools for Plastic Pipe, Drill Powered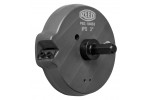 04663 - PB3 - Chamfer Tools for Plastic Pipe, Drill Powered
Specifications
Description
for 3" plastic pipe
Pipe Capacity
mm
77.9 ID / 88.9 OD actual
Features
Quickly chamfers pipe for solvent connections.
Features strong, aluminum body and 3/8 inch hex, steel shaft.
Uses drill power which eliminates user fatigue when making multiple cuts/chamfers.
Deburrs inside and outside simultaneously, in just seconds.
Produces smooth, consistent chamfer on plastic pipe, eliminating leaky glue joints that can be caused by improper chamfer.
Great for vent pipe such as System 636® pipe.
Documents