Double Squeeze™ PE Squeeze Tools - Manual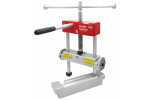 Double Squeeze™ PE Squeeze Tools - Manual
Features
Optimized double bar design best manages flow control.
Ball bearing design reduces manual operator squeeze effort by approximately 30%.
Hand placement area machined into bottom bar allows for easy lifting.
Materials changes yield a 10% weight reduction over prior PES4 models.
ASTM squeeze and release rates posted on tool body.
Specifications
Catalog No.
Item Code
Capacity
Pipe/SDR Stops
Height
Weight
in-nom.
actual O.D.
in
mm
lbs
kg
PES4DB
04336
2 - 4
2.38" - 4.50"
98094
20
508
35.5
16.1
PES4DBM
04337
75 - 100 mm
98121
20
508
35.5
16.1
More Information
REED offers the best designed tools for stopping flow in ½" up to 8" PE pipe. Different models handle a wide range of pipe sizes and applications. Sliding bar handles on these manual squeeze tools make work in tight places easier and increase leverage for tightening. Fine-pitched thread on feed screw allows for a controlled, low-effort squeeze. Grease fittings at friction points make operation smoother and extend tool life. Aluminum bars are anodized or painted for protection from the elements. All PE squeeze tools use positive stops to prevent damage caused by over-clamping. Multiple size/SDR settings on one pair of stops provide quick, convenient over-squeeze protection for standard pipe sizes.
REED Squeeze-Off Tools for all US nominal pipe sizes follow these standards: ASTM F1734, ASTM F1041, ASTM F1563. For all the metric pipe sizes, they follow ISO 4437 standards.
NOTE: REED strongly recommends use of the PEGR7 Static Grounding Device (#04621) with PE Squeeze-Off Tools. Use a grounding device as a precaution against static build-up. Dissipate the charge and minimize the possibility of ignition.

New design removes operator pain points with its reduced weight and durable construction, plus the specially designed, hand placement areas for lifting. To reduce user frustration, the ASTM squeeze and release rates are also adhered to the tool body, eliminating the need to find the manual.
Accessories & Common Parts
Accessories
Documents

Videos
Double Squeeze™ PE Squeeze Tool Intro
To download this video, select your preferred format:

MP4 (303 MB)