DEB4 Deburr / Chamfer Tool for Plastic Pipe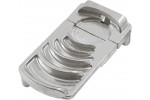 DEB4 Deburr / Chamfer Tool for Plastic Pipe
Features
Snap onto plastic pipe and rotate to cut an external chamfer.
Suitable for PVC, CPVC, ABS and PP.
Deburr and chamfer in the same rotation using DEB4.
Specifications
Catalog No.
Item Code
Pipe Capacity nom.
Application
Weight
lbs
kg
DEB4

[1]

04430
1-1/4", 1-1/2", 2", 2-1/2", 3", 4" nom.
42, 50, 63, 75, 90, 114 mm O.D. actual
3/32" 15° chamfer
PVC, CPVC, ABS, PP
0.7
0.32
[1]
Not recommended for thin wall pipe.
More Information
One easy revolution of REED exclusive DEB4 deburrs and produces a 15° external chamfer in seconds. DEB4 deburrs the outside of the pipe only to allow easy assembly into fittings. It fits comfortably in one's hand for a secure grip. As an alternative to hand turning, there's a ½" square drive pocket on the backside for use with a ratchet wrench. DEB4 creates a smooth, chamfered pipe end so solvent can be spread evenly for pipe joining. Aluminum die-cast DEB4 deburring tool features a hardened steel blade that is reversible, sharpenable and replaceable. Fits six nominal pipe sizes of PVC, CPVC, ABS and PP up through 4" diameter.

Accessories & Common Parts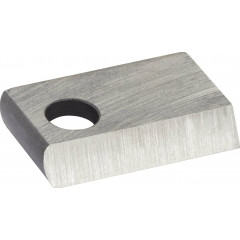 Replacement Blades