04655 - DEB1M - DEB1 Series Deburring Tools for Plastic Pipe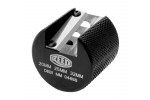 04655 - DEB1M - DEB1 Series Deburring Tools for Plastic Pipe
Specifications
Pipe Capacity nom.
20, 25, 32 mm O.D.
Application
PVC, CPVC, PE, ABS, PP
Features
Designed to fit three metric pipe sizes in one tool.
DEB1 offers knurled grip for slip-resistance and durable aluminum body for longevity.
Deburr and chamfer in the same rotation.
Suitable for PVC, CPVC, PE, ABS and PP.