04670 - DEB1IPS-INT - DEB1 Series Deburring Tools for Plastic Pipe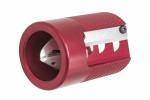 04670 - DEB1IPS-INT - DEB1 Series Deburring Tools for Plastic Pipe
Specifications
Pipe Capacity nom.
1/2", 3/4", 1" I.D./O.D.
Application
PVC, CPVC, PE, ABS
Features
2-in-1 tool which deburrs outer diameter on one end and inner diameter on the other end. No need to buy two separate tools.
Offers knurled grip for slip-resistance and durable aluminum body for longevity.
Deburr and chamfer in the same rotation.
Suitable for PVC, CPVC, ABS and PE pipe.
Fits ½", ¾" and 1" IPS pipe.
Both hardened steel blades are replaceable. The internal blade is reversible with two cutting edges.