04651 - PDEB1IPS - DEB1 Series Deburring Tools – Drill Powered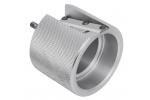 04651 - PDEB1IPS - DEB1 Series Deburring Tools – Drill Powered
Specifications
Pipe Capacity nom.
1/2", 3/4", 1" O.D.
Application
PVC, CPVC, PE, ABS, PP
Features
Integrated shaft for drill power operation.
Knurled grip for slip-resistance and durable aluminum body for longevity.
Deburr and chamfer in the same rotation.
Suitable for PVC, CPVC, PE, ABS and PP.
Three sizes of pipe accommodated per tool.