04438 - PDEB250 - Cone Chamfer Tool - Drill Powered or Manual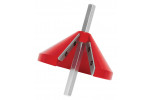 04438 - PDEB250 - Cone Chamfer Tool - Drill Powered or Manual
-
PDEB250 is not for sale in Canada due to specific installation code requirements on PVC and CPVC pipe. To meet those Canadian codes, REED recommends the following tools for chamfer/bevel according to pipe size: DEB1 (1/2" - 1"), DEB4 (1 1/4" to 4"), PBKIT (power 2", 3", 4") tools, and CPBKIT (2" - 12" for gasketed connections, 2" - 24" for solvent cement connections).
Features
Chamfer pipe and have it ready for glue in seconds.
Cone shape chamfers full range of ¾" - 2 ½" nominal plastic pipe sizes.
Cuts external and internal bevels; just flip the tool over for use.
Its cone shape creates bevels in a range of imperial and metric size pipe.
Power or manual operation possible due to its removeable shaft.