04518 - CRP200 - Clean Ream Plus® Plastic Pipe Fitting Reamers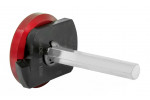 04518 - CRP200 - Clean Ream Plus® Plastic Pipe Fitting Reamers
Specifications
Description
Reams 2" Sch. 40 PVC, CPVC & ABS Fittings
Features
Reliable Clean Ream Plus is engineered for 250 or more reams - far more than the competition.
Mid-priced model gives exceptional service which means less downtime.
Save time and materials by eliminating the need to replace entire sections of pipe.
Designed to ream-out Schedule 40 PVC, CPVC & ABS fittings.
Heat-treated for long life, the cutting disc may be sharpened and/or replaced.