04532 - PPR250 - Clean Ream Extreme® Plastic Pipe Fitting Reamers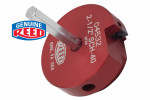 04532 - PPR250 - Clean Ream Extreme® Plastic Pipe Fitting Reamers
Specifications
Description
Reams 2 1/2" Sch. 40 PVC, CPVC & ABS Fittings
Features
Clean leftover pipe and solvent cement residue from Sch. 40 PVC, CPVC or ABS fittings.
These hub savers fit 2 1/2 inch fittings commonly found in commercial pool and spas including water parks, theme parks, therapy pools at rehabilitation centers, colleges and universities.
Reduce labor time and materials costs by reusing the fittings.
Fits into standard 1/2 inch drill.
Pilot diameter aids in cutting on center and stops tool at the proper cutting depth.
Use high torque, low RPM drill setting to reduce heat caused by friction and to provide the cleanest ream.
Documents