44648 - RBIT2 - Router Bits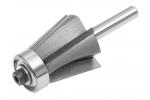 44648 - RBIT2 - Router Bits
Specifications
Description
Carbide Router Bit, 12°
Features
Because of the bevel length, RBIT2 router bit is recommended for use with 6" diameter and larger, gasketed plastic pipe.
Bit creates 12° external bevel, adjustable up to 1" long on plastic pipe.
Long-lasting carbide router bit with four flutes and high RPMs for fast, smooth cuts.   
Ideal for large diameter plastic pipe.
NOTE:  For solvent cement joints, use Reed's RBIT1 for a shorter bevel.