04659 - CPBDK - Bevel Boss® Cordless Pipe Bevelers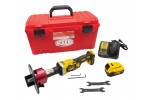 04659 - CPBDK - Bevel Boss® Cordless Pipe Bevelers
Specifications
Description
Kit with Beveler Adapter, Router Bit, DeWalt® Die Grinder, Battery and Charger
Bevel Length
RBIT1: Adjustable 1/8" - 5/8"
[1]
-
Sold only in US and Canada, due to battery and charger.
[1]
Add RBIT2 for bevel length of 7/16" - 1"
Cordless tool deburrs and bevels plastic pipe quickly.
Kit includes Beveler Attachment with exterior shroud (CPBDADP), RBIT1 Router Bit, DeWalt® Die Grinder, Battery and Charger.
Provides a quick, easy and safe way to bevel plastic pipe.
Adjustable beveler creates external bevel on 2" and larger diameter plastic pipe.
Long-lasting carbide router bit with four flutes and high RPMs for fast, smooth cuts.
Check the baseplate arrow for O.D. or I.D. which points to the direction to rotate the beveler around the pipe.
Works exclusively with the DeWalt® 20V cordless die grinder.