04653 - CPBDBAT - Bevel Boss® Cordless Pipe Bevelers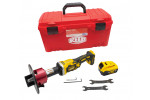 04653 - CPBDBAT - Bevel Boss® Cordless Pipe Bevelers
Specifications
Description
Kit with Beveler Adapter, Router Bit, DeWalt® Die Grinder and Battery
Bevel Length
RBIT1: Adjustable 1/8" - 5/8"
[1]
[1]
Add RBIT2 for bevel length of 7/16" - 1"
Features
Cordless tool deburrs and bevels plastic pipe quickly and safely.
Kit includes Beveler Attachment with exterior shroud (CPBDADP), RBIT1 Router Bit, DeWalt® Die Grinder and Battery only.
Adjustable beveler creates external bevel on 2" and larger diameter plastic pipe.
Long-lasting carbide router bit with four flutes and high RPMs for fast, smooth cuts.