04686 - CPBMCOLLET - Bevel Boss™ Cordless Pipe Beveler Accessories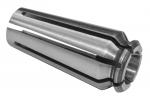 04686 - CPBMCOLLET - Bevel Boss™ Cordless Pipe Beveler Accessories
Specifications
Description
Imperial collet to replace metric collet in international Milwaukee® die grinders
Features
Replacement collet for use with international models of Milwaukee® die grinder and REED Router Bits.
Used with REED CPBMADP beveler adapter and Router Bits.
NOTE:  The metric collet supplied with some international Milwaukee die grinder models will not fit the REED RBIT1 and RBIT2. A change of collet is required; REED offers #04686 CPBMCOLLET. Refer to die grinder operator's manual for further instructions.