04687 - CPBDCOLLET - Bevel Boss® Cordless Pipe Beveler Accessories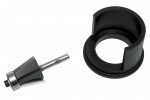 04687 - CPBDCOLLET - Bevel Boss® Cordless Pipe Beveler Accessories
Specifications
Description
Imperial collet to replace metric collet in metric DeWalt® die grinders
-
International users who source their own die grinder may need to change the die grinder collet to fit REED Router Bits.
Features
Replacement collet for use with international models of DeWalt® die grinder and REED Router Bits.
Used with REED CPBDADP beveler head and Router Bits.
NOTE: The 6mm metric collet supplied with some international DeWalt die grinder models will not fit the REED 1/4" diameter shank on RBIT1 and RBIT2. A change of collet is required; REED offers #04687 CPBDCOLLET. Refer to die grinder operator's manual for further instructions.