04329 - PESMPA - Bear Hug™ PE Squeeze Tools - Hydraulic, Heavy-Duty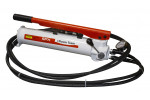 04329 - PESMPA - Bear Hug™ PE Squeeze Tools - Hydraulic, Heavy-Duty
Specifications
Description
2-stage Hand Pump for use with REED PES8BT and PES8BTM
Manual hydraulic pump for use with REED PES8BT Bear Hug™ Squeeze Tool System.
Manual arm is used to raise and lower the squeeze bars.
12-ft hose allows pump to be placed out of the ditch at ground level.
With this portable power source, an extra power source is not needed.